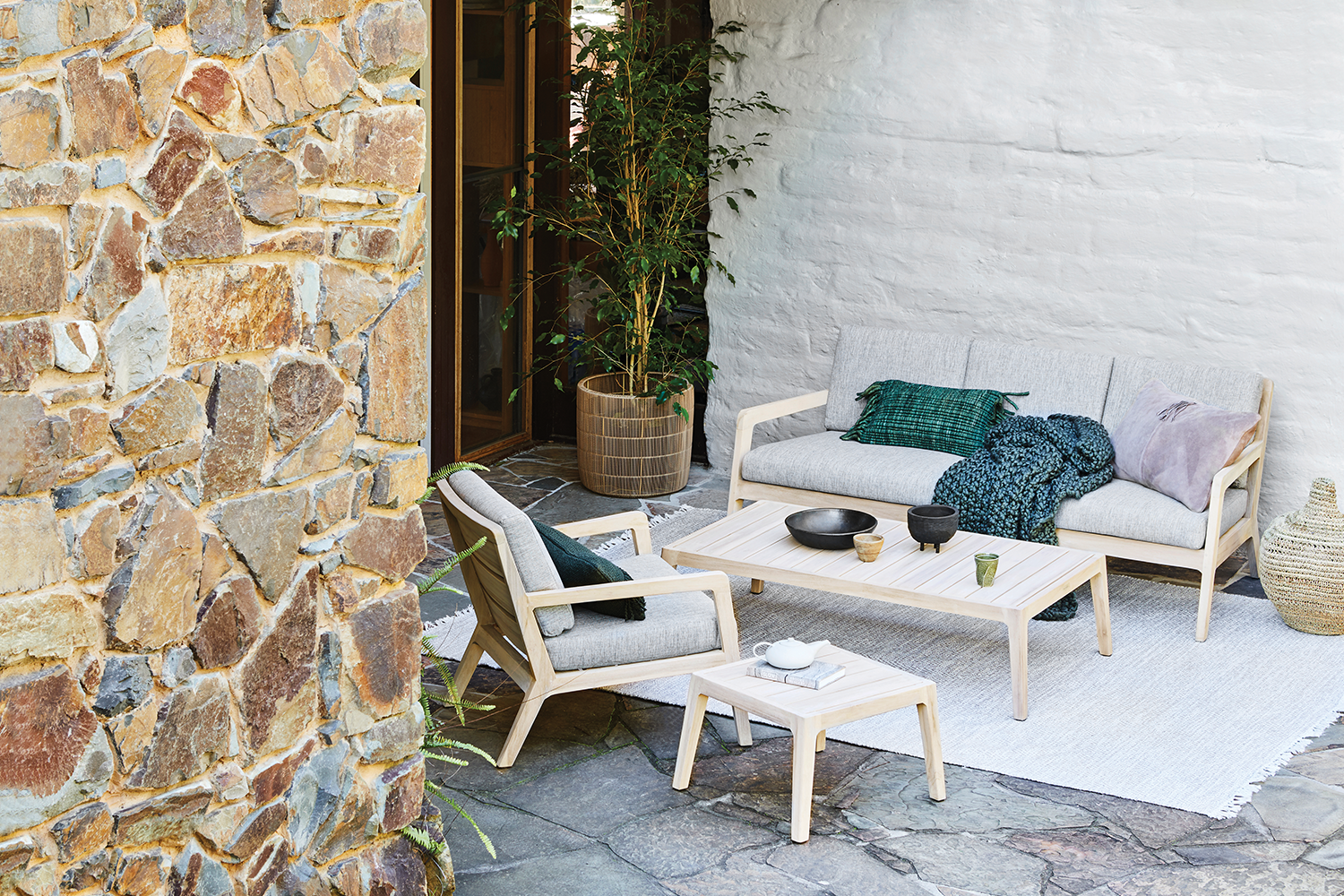 5 Tips for Cosy Outdoor Living
Large or small, our outdoor spaces form a restorative extension of our homes where we can disconnect from the busyness of life and reconnect with nature.
Heading into the cooler months, here are five key styling tips for creating a warm and cosy outdoor patio.
1. Soften with Touches of Nature
Create a sense of comfort in your outdoor area   by utilising plants as a form of soft furnishing. Soften harsh exteriors with a vertical garden or climbing plants  or create privacy with a wall of ferns or bamboo.
Pictured: Lyon 1 Seater Sofa in Oyster/White
2. Accessorise with Cushions and Throws
 One of the quickest and easiest ways to add warmth to  a space is with cushions and throws. Don't be afraid to mix and match with one or two key tones in various textures. Try using warmer hues in the colder months this will help add warmth visually.
Consider adding storage in close proximity to store additional throws and cushions for easy layering.
Pictured: Southport 3 Seater Sofa in Pebble
3. Choose Plush Furniture
Just as important as decorating with soft furnishings is selecting furniture with plush cushioning.. If you're looking to create a cosy, backyard haven for the winter months, choose pieces with well-padded backrests and seating. You can browse our weatherproof, durable & comfortable outdoor sofas here.
Pictured: Hamptons 1 Seater Sofa in Linen Blend/Natural Teak
4. Create Warm Lighting
Elevate your outdoor evening with soft, ambient lighting.  Look to pendant lights with natural finishes, candles hung or bundled in glass vessels, or a statement fire pit to enhance the comfort of your setting.
5. Use Natural Materials and Colours
Texture plays a large role in shaping a cosy outdoor living space. Earthy materials such as warm timbers and stone help to create a calm and comforting environment. Utilise natural materials and neutral colour palettes to add tactile warmth to your alfresco.
Pictured: Somers Frame 1 Seater Sofa in Grey Marle /Aged Teak, Somers Side Table in Aged Teak