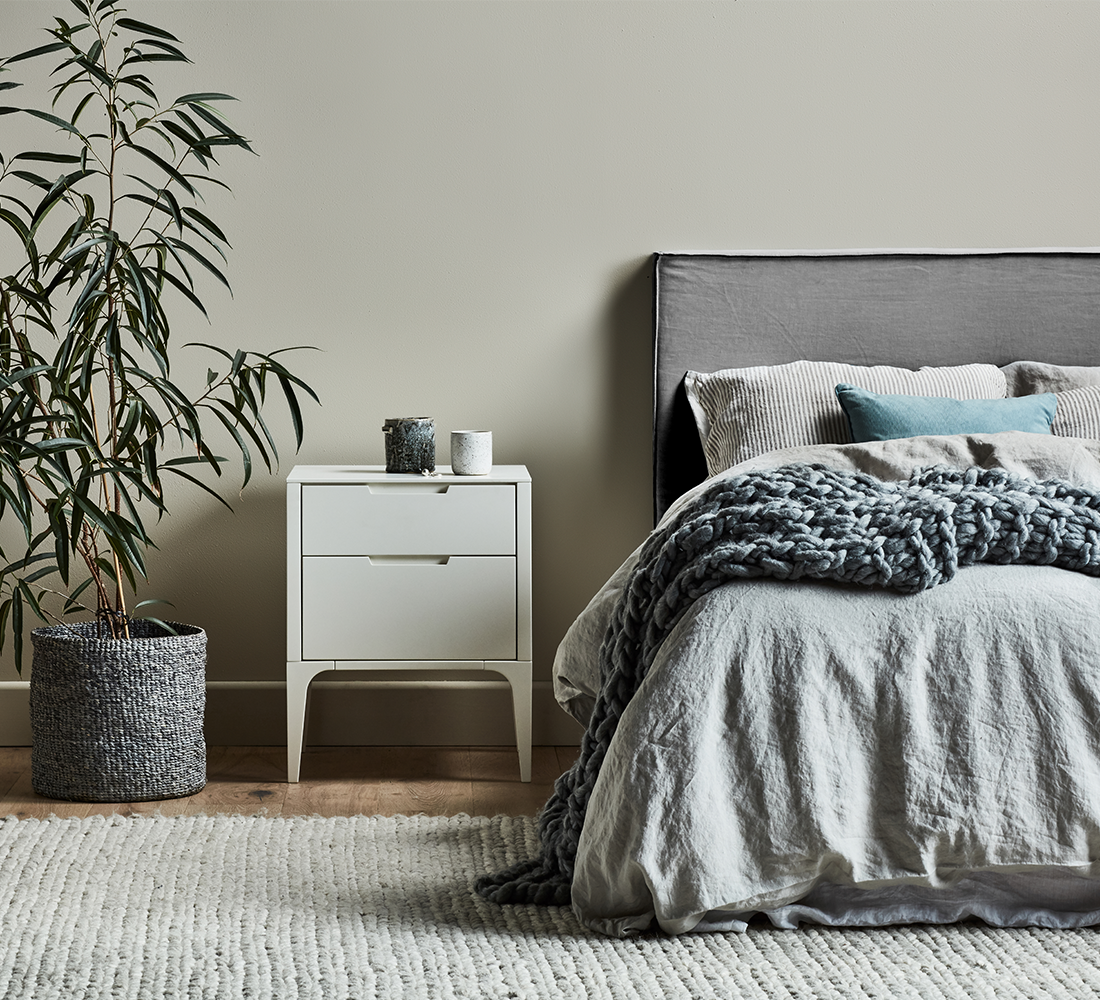 5 Styling Tips for a Beautiful Bedroom Sanctuary
Our bedrooms are often the one place we can genuinely decompress, disconnect from the world, and feel like our true selves. Creating a sanctuary that is unique to your tastes and needs can make all the difference in being able to recharge for the next day.
On the blog today, we discuss some simple styling tips and tricks to making the boudoir of your dreams a reality.
Pictured: Vittoria Stitched Bed in Cement
Tip 1. Consider the mood of the space you want to create first and align your styling decisions to this tone
For a place of retreat, turn the volume down in palette with softer, calmer tones, avoiding more vibrant colours and harsh lines. Use softer furnishings and designate a place for technology, far removed from your bed.

Tip 2. Mix and match linen for a touch of bespoke personality
Instead of sticking to strict uniformity with the one linen set, try mixing a few complimentary colours between your quilt cover, sheets and pillowcases. Play around with texture too by adding a chunky knit throw in winter, or a light patterned coverlet in the warmer months.
Pictured: Felix Cocoon Bed in Light Grey
Tip 3. Prioritise creating the right atmosphere with light
Light in the bedroom should be catered to your needs and how you best sleep. If you are a 'light' sleeper, opting for block-out blinds will create an environment that allows your body to get a full night's rest (and enjoy a luxurious sleep-in on the weekend).

If you are less light sensitive, soft sheer blinds will allow more beautiful natural light to pass through in the mornings and can be easily retracted for full sunlight during the day.

Tip 4. Scents are most impactful in the bedroom
Playing with all senses is the key to any well-styled room, but in the bedroom, sound and smell play a particularly important role. A light linen spray can have a calming effect when slipping into bed, as can the ambiance of a gentle scented candle. Alternatively, sweet-scented blooms can be a beautiful addition to the bedroom, as can the simplicity of a single monsteria leaf.
Pictured: Luca 2 Drawer Bedside in White
Tip 5. Sometimes less is more
Oftentimes, a clear, uncluttered space means a clear mind. There's no need to fill your bedroom with too much. Keep it minimal, adding a few functional pieces and allow space in the room to breathe. The simplicity of a bedroom is often what makes it so beautiful and serene. If you're struggling for storage solutions, use under bed storage so that the mess is out of sight, out of mind.