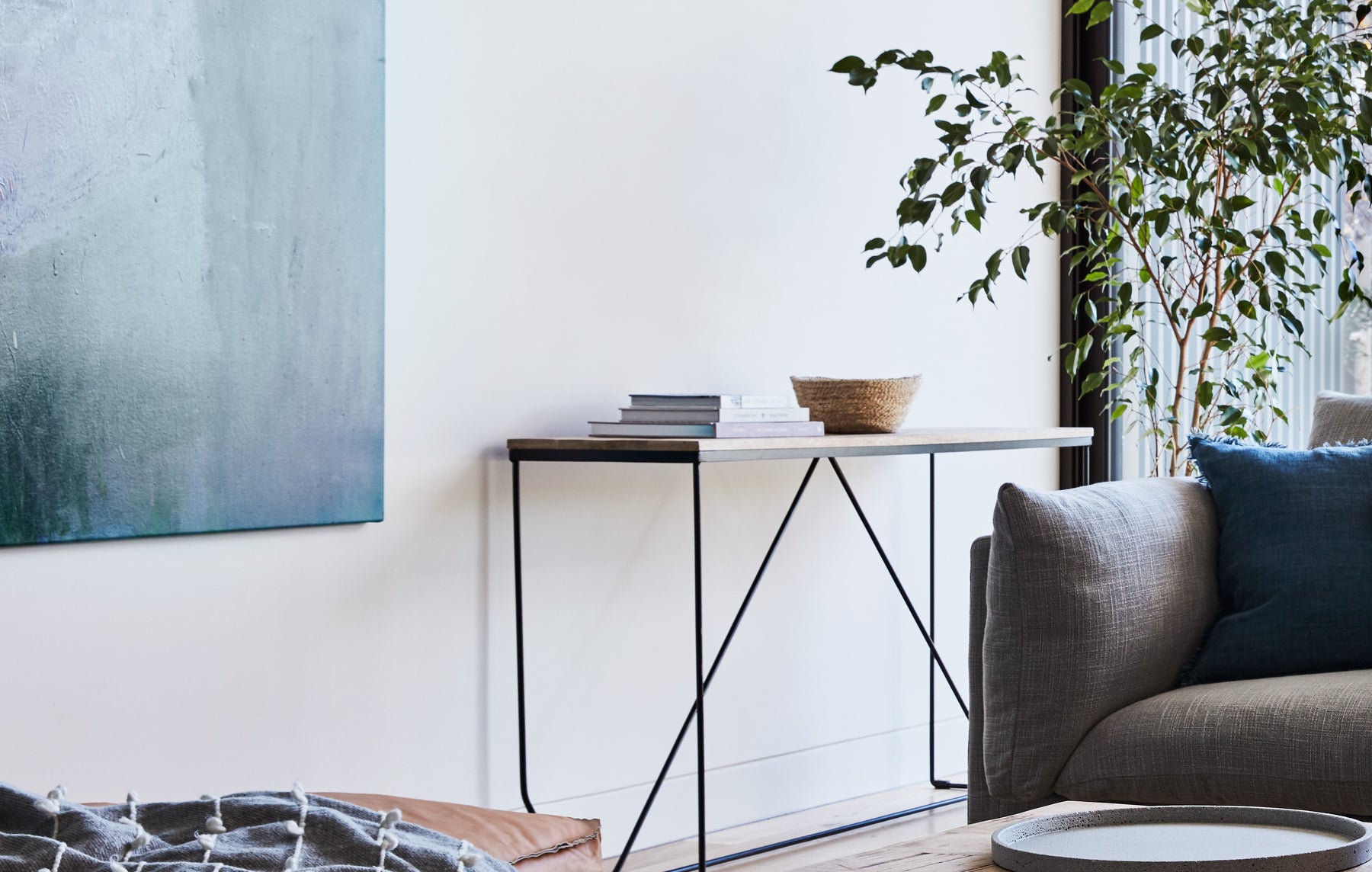 4 Entry & Hallway Decorating Tips
From navigating small spaces with ease to choosing a foundational hero piece and more, create hallway furniture arrangements with welcoming ambience and head-turning impact.
These four achievable tips will have you welcoming guests in style.
Consider Size & Cohesion
Selecting the right furniture for an entryway is key. Measure up the area you plan to place your console, ensuring you have enough room for people to easily walk past without bumping into your pieces.
Also consider the style of the other furniture pieces in the home to ensure the console won't clash. The front entrance of your home can set the tone of your interior aesthetic, slipping into the rest of the scheme cohesively.
Pictured: Gus Wave Stool in Natural Ash
Centring Around a Hero Piece
When styling console tables, sideboards or bookshelves, always start with your hero piece first. It's the one piece that will be the focal point in the space. This is usually art or a mirror when styling a console.
If you don't have a hero art piece, an oversized vase of greenery or flowers can also act as a great focal point.
Pictured: Elle Cube Marble Console in Black
Composition
Consistency is key when deciding on hallway or entryway decorating ideas. Here are two different approaches you can take:
Symmetrical - If you'd like to use a mirror as the hero piece, try centring this above the console table on the wall, then style with symmetry either side of the console. Your decorative pieces don't need to be identical on either side. However, to feel balanced, ensure the heights and size of the shapes are similar.
Asymmetrical - This is great for anyone who likes to change their interior décor regularly. For this option, try leaning your large hero artwork against the wall (this allows flexibility to swap or move your piece often), on one side of the console. Then style the middle section as the lowest point, using some stacked books and an object or dish for keys on top.
On the opposite side of the console to the hero piece, style with medium height objects such as a table lamp to create asymmetrical balance.
Vignettes
For the finishing touch when styling your console, create vignettes of 3 or 5 pieces. This is a great way to add a touch of personality, utilising a combination of neutrally aesthetic and sentimental objects. Keep it simple as console tables are narrow, so too many elements could look messy.
Pictured: Alfie Terrazzo Vase & Alfie Terrazzo Bowl (Shop Instore)